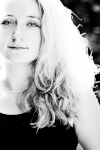 Nina Fárová
postdoctoral researcher
e-mail: This email address is being protected from spambots. You need JavaScript enabled to view it.
web: https://www.soc.cas.cz/en/lide/nina-farova
https://cas-cz.academia.edu/NinaFárová

Nina Fárová is a postdoctoral researcher at the Centre for Gender and Science of the Institute of Sociology of the Czech Academy of Sciences. She holds MA in Sociology and PhD in Anthropology from University of West Bohemia in Pilsen. She has been conducting an ethnographic research into the Czech educational system, focusing on the issue of men and masculinity in a feminized context. She is also a lecturer at the University of Hradec Králové where she teaches gender theory and qualitative methodology. In 2018 she was a visiting student researcher at Leiden University's Centre for Science and Technology Studies.
At the Institute of Philosophy of the Czech Academy of Sciences she is a team member on the Czech Science Foundation project "Funded and Unfunded Research in the Czech Republic: Scientometric Analysis and Topic Modeling" where she specializes in gender dimension of funding and qualitative research. 
Recent publications
Fore more, see the 
ASEP
 database of the Czech Academy of Sciences.