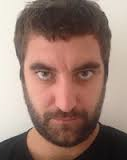 research associate
e-mail: This email address is being protected from spambots. You need JavaScript enabled to view it.
phone: +420 221 183 341
office: 201a
web: https://filipvostal.net/
Filip Vostal received PhD in sociology from the University of Bristol in 2013. He works as a senior researcher at the Institute of Philosophy of the Czech Academy of Sciences. His research interests encompass sociology of time, science & technology studies (STS), critical social science, social and cultural dimension of AI/ML and numismatics (notaphily). He is an author of several articles about the shifting temporality in/of academia and science, broadly conceived, and author of Accelerating Academia: The Changing Structure of Academic Time (Palgrave, 2016). Currently he runs a project that examines temporality of knowledge production in x-ray free electron laser experiments and explores the epistemic role of speed in new methods of investigation in time-resolved structural biology, namely "single particle imagining" and "serial femtosecond crystallography". He teaches several STS courses at Charles University and sits on the editorial board of Time & Society. He is a member of EASST and 4S.

 Curriculum vitae (February 2021)
Recent publications
Fore more, see the ASEP database of the Czech Academy of Sciences.